Hagedorn demolishes the German Medical Chamber's domicile with robots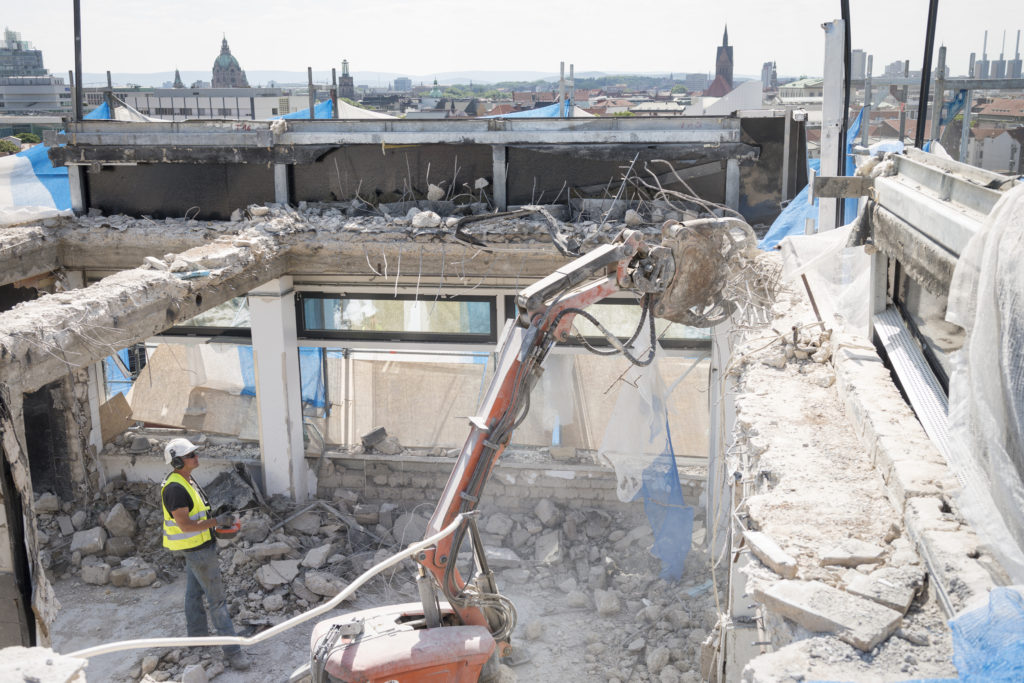 Inch by inch a landmark of Hannover disappears
Hagedorn lets a landmark from a period of economic upswing disappear. Once built bombproof, to serve as an emergency hospital in case of a third World War, the four massive high-rise wings of the German Medical Chamber now gradually have to go. Wide corridors and large elevator shafts, hidden behind a mirrored facade, asbestos, formaldehyde and a bad insulation – this building from the sixties no longer meets today's requirements for an office complex. Therefore, it has to give way to a newly planned building for the Medical Chamber.
A start with high impact
After gutting and pollutant decontamination the demolition begins. Nine floors are tackled one by one with remote-controlled electro robots. Via joystick and from a safe distance the robots demolish each floor from the outside to the inside, from top to bottom. The equipment is light and manouverable, is able to work close to the abyss and has the power like a conventional 14-ton-excavator.  The demolition will continue until autumn, since the building is built very solidly and because of challenging conditions due to a high density area. The neighboring buildings are equipped with vibration detectors. The vibration detectors trigger an alarm with defined warning levels. The alarm goes off as soon as the vibrations become noticeable on the construction site and the surrounding area.
Snow cannons in summer
To largely avoid dust, a snow cannon was installed. The operation of the cannon without any cooling ensures constant spray mist which binds the fine dust particles in the air. Waste generated on site is not being removed immediately, but instead deposited in the basement. There, it serves – while the demolition progresses – as ballast, so the lower and more lighter floors are not being bloated by groundwater.