Circular economy "Kreislaufwirtschaft Bau": Handover of the monitoring report "Mineral Construction Waste" in Berlin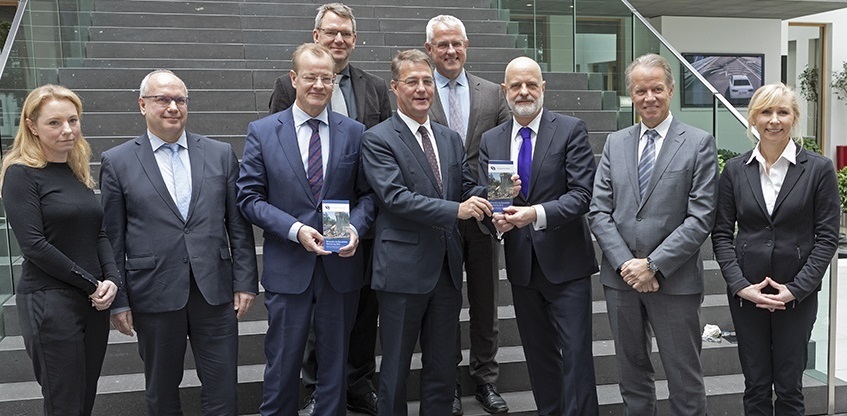 Still around 90 percent of all mineral construction waste is recycled in an environmentally compatible manner. The initiative "Kreislaufwirtschaft Bau" handed over the now 11th monitoring report "Mineral Waste" to State Secretary Gunther Adler (Federal Ministry of Construction).
"The creation of affordable living space, the modernisation of the traffic infrastructure and the implementation of the energy transition are central tasks of the Federal Government, which cannot be managed without an efficient building materials, construction and waste disposal industry. Also on the basis of the general framework created by the Federal Government, the initiative "Kreislaufwirtschaft Bau" could continue their success story and exceed the European recycling targets significantly ", explained Gunther Adler, State Secretary in the Federal Ministry of the Interior, for Construction and the Home (BMI), at the receipt of the monitoring report "Mineral Construction Waste" on 21 January 2019 in Berlin.
Since 1996, the initiative "Kreislaufwirtschaft Bau", supported by 7 associations of the construction, demolition and recycling industry, has been publishing monitoring reports every two years with data on the occurrence and destination of mineral construction waste. The current and now 11th report is based on the official data for 2016 and also contains an overview of the development of mineral construction waste flows over the past 22 years.
Of the approximately 215 million tonnes of mineral construction waste generated in 2016, around 193 million tonnes, or around 90 percent, were recycled in an environmentally compatible manner. The overall recycling rate of 95 percent for fractions without excavated soil shows that the building material cycle could be closed almost completely. The associations see the ordinance "Mantelverordnung", which is available as a government draft since May 2017, as an opportunity to create a uniform federal ordinance in contrast to the current fragmented body of regulations at state level. Even though many problems identified by industry have now been taken up and solved, further changes to the cabinet draft are required. Companies need practicable and consistent regulations as well as a clear allocation of responsibilities under waste law.
The complete press release as well as the monitoring reports are available free of charge in the internet at www.kreislaufwirtschaft-bau.de.