Demolition at a prominent position – The company Bergmann GmbH demolishes the hotel Königshof in the city centre of Munich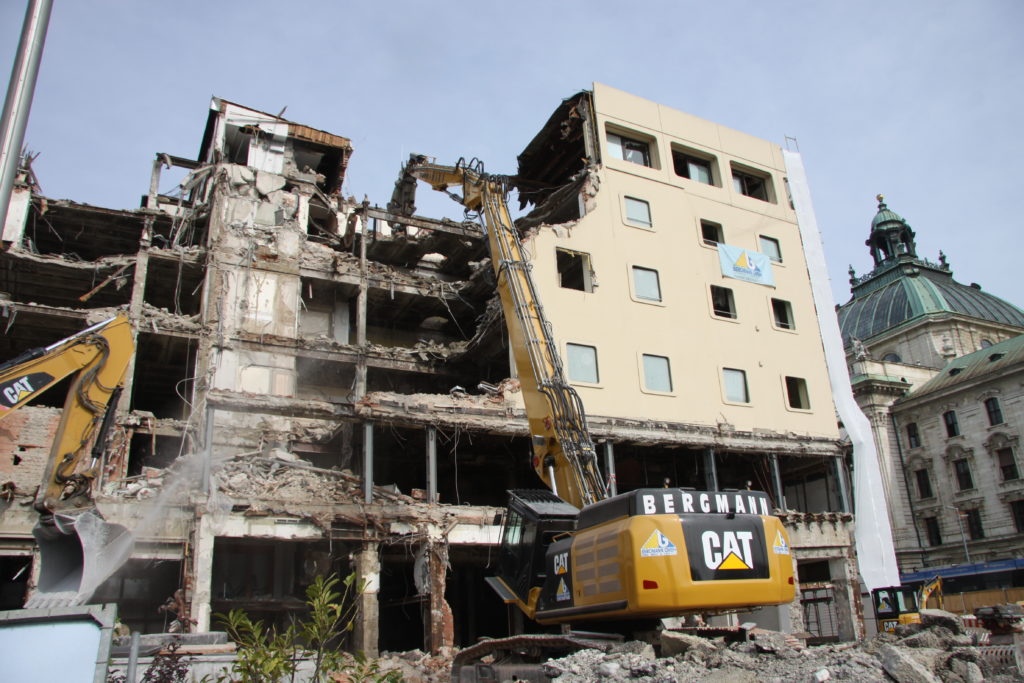 Since May of 2019 the hotel "Königshof" at the Stachus/Karlsplatz in the city centre of Munich is being demolished by the Fa. Bergmann GmbH from Feldkirchen near Munich.
The old hotel Königshof with its more than 150 years of history that is property of the hotelier family Geisel is going to be replaced by a futuristic new construction according to the design of the Spanish architectural office Nieto Sobejano. The façade of this luxurious hotel rich in tradition and with its top-quality restaurant dominated the ground in the centre of Munich for a very long time.
The company Bergmann that has been busy with the demolition of the traditional restaurant "Andechser am Dom" in Munich´s pedestrian zone right before, where now the new fan world of FC Bayern München arises, is now also in charge.
The CAT 349 UHD works itself through the building step by step, secured with a protective scaffolding in a constructed curtain for demolition, which is being held by a Liebherr HS 8050 cable excavator and belonging to the firm. Further hydraulic excavators (CAT 330, CAT 329) are doing secondary works and already started the material processing. Until the end of June, the building shall be demolished until the top ground surface.
Because of the difficult static conditions in the surrounding area (underground, tram, underground parking and Stachus-basement) the old base plate can only be processed piecewise and slowly in cooperation with the new base plate. Due to the fact, that the new construction shall get two more basements, the cover that shall be created needs to have a cut out, through whom the excavation (in under lid construction) can be transported with a cable excavator to the surface.
The completion or rather opening of hotel Königshof is planned for the end of 2021.
Information