Coordinated use of machines makes challenging dismantling possible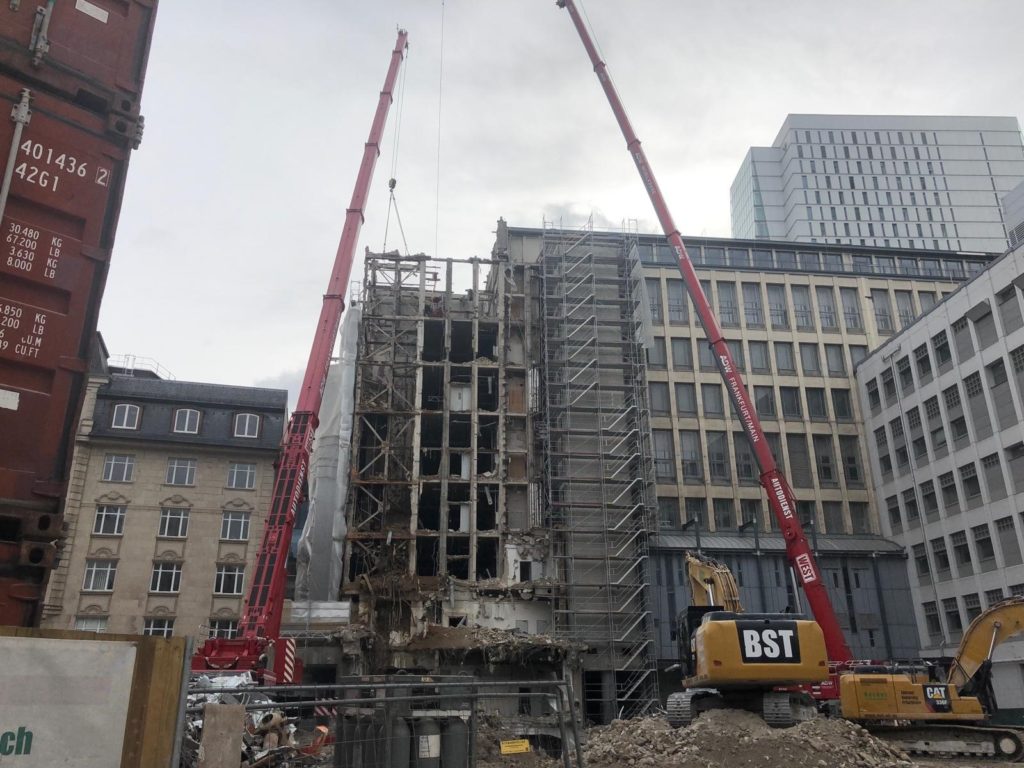 In the middle of last year, the BST Becker Sanierungstechnik GmbH has been engaged with the challenging dismantling of buildings in the narrowly build district at the Stiftstraße in Frankfurt.
A tricky project that demanded a lot from the team of the BST surrounding the project manager Sebastian Watermann. Not only the inner-city position and the closeness to the Frankfurter Zeil, a well-known shopping arcade, but also the height of the buildings with a volume of about 80.000 cubic meters of enclosed space and the boundary development that had to be preserved have been a great challenge for the BST. Around 35.000 tons of construction waste needed to be moved and utilized or rather disposed.
With the latest devices, for example the new longfront excavator KMC 600, a CAT 336 and a CAT 330, the up to 50 metres high administration buildings have been gradually dismantled. Hereby the BST has been supported by the company Kafril & Reinwald who accounted for the difference in height with their Hitachi 870 longfront excavator. The 55 metres high stairwell instead needed to be lifted off floor-wise by a crane. In order to do that the encased steel girder construction has been exposed with manual stemming, walls and ceiling have been stemmed out with the Husqvarna demolition robot and the steel girders have been transported to the ground with a crane after the thermal separation.
In addition to that the technology shaft made from reinforced concrete has also been reduced in a cutting procedure by a truck crane. During the phase of gutting and renovation there have been around 40 employees in use on the spot. Among so called black area conditions weekly bound asbestos insulations in carrier implementations needed to be removed before the mechanical demolition.
Because of the narrow spatial circumstances, it has been important to implement the specifications that have been given in the logistics concept created by BST. BST was able to hand over the backfilled basement flatly levelled to their customer, the Becken Development GmbH from Hamburg, on schedule and because of that punctual to the transfer of the construction field to the purchaser.
Information