DA-Innovation-Award 2020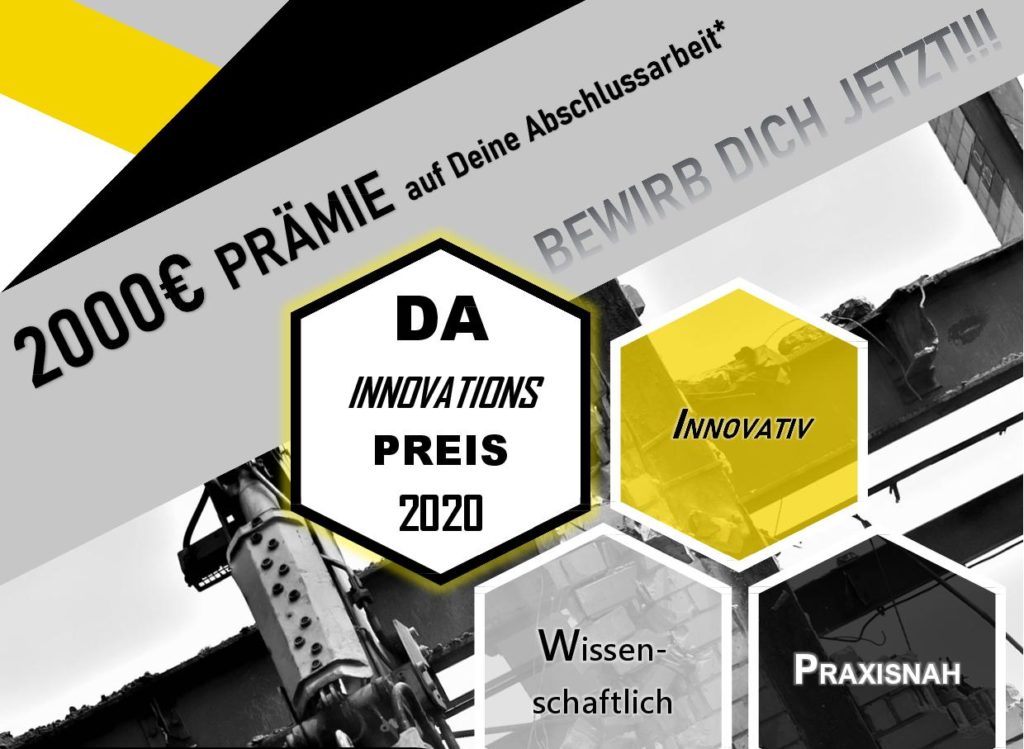 Deutscher Abbruchverband e.V. (German Demolition Association) awards innovative final degrees for the third time
Due to high participation on the DA-Innovation-Award in the last two years, also in 2020 there will be an award granted by the Deutscher Abbruchverband e.V. for final degrees, which deliver new insights into the branch.
Students of civil engineering, geology and other related fields of study can submit their graded final degrees (bachelor-, master-, diploma- or doctoral theses are accepted). The conditions are that the thesis is not older than 24 months, composed self-reliantly and delivers branch-related innovations about demolition, building material recycling or pollutant cleanup. Further the thesis has to be written in German language.
From now until 13th December 2019, fitting degrees can be submitted to the Deutscher Abbruchverband e.V.. The degrees will be proofed elaboratively by a high-regarded jury out of field-experienced representatives of the association.
The winner of the DA-Innovation-Award 2020 gains a financial award of 2000 € and will be honored publicly at FACHTAGUNG ABBRUCH 2020 on 28th February 2020 – Europe´s biggest demolition congress.
The DA-Innovation-Award 2019 was given for a master thesis in the field of civil engineering at Karlsruher Institut für Technologie (KIT).