Use of special grinding process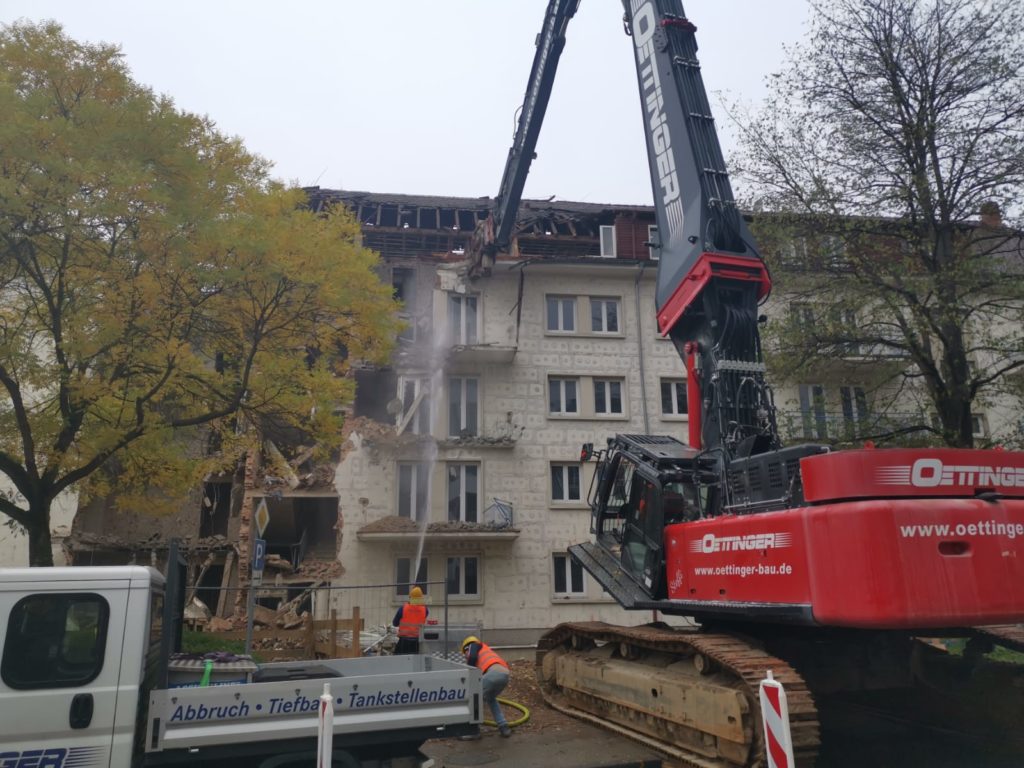 Pollutant decontamination in the middle of spa city Baden-Baden
The Oettinger group dismantled the former residential building for French military personnel in Baden-Baden.
A special grinding process has been used for the dismantling of the former soldier´s apartments in Baden-Baden. As these have been burdened with pollutants. In the 1950´s building sections with several floors have been built as residential buildings for French military personnel in Baden-Baden. After deduction of the troops the city administration rent these apartments. Lately demolition specialists from the Oettinger group dismantled that building in Malsch in the district of Karlsruhe. The residential buildings on the 2400 m² big property have been nearly 20 m high and had a gross capacity of 9200 m³. They consisted of a basement, three upper floors and 1100 m² roof surface. The insulation with polystyrene could not be mechanically dismantled due to the position in the inner city.   Instead it happened manually with the help of frameworks and lifting platforms.
Before the Oettinger group could begin with the mechanical demolition, they had to do an extensive pollutant decontamination. On the floor ceilings of all apartments there has been cement screed installed with underlying roof sheeting with extreme PAH burden. Below parquet covering and tiles were asbestos containing roof sheeting. The coverings have partly been dismantled with the BT-40 procedure. With this specific grinding procedure asbestos containing glues can be dismantled with few emissions. In the gaps of the double wooden floorboards construction of the attics floor was a slag-sand filling. That also had an increased PAH substance and needed to be renovated in advance too. All in all, 169 rooms and contaminated areas of the building had a pollutant clean up under compliance of all requirements.
In close coordination with the environmental authorities the Oettinger group created a disposal concept and implemented it. The company separated the waste according to the provisions of the Waste Control Ordinance and the Waste Management Act in different fractions. Like that as much as possible can be recycled. "After clearing and gutting the buildings our Kiesel multi carrier, short Kmc-600, with different additional tools like for example a sorting grab and demolition tongs as well as the Hitachi ZX 210-5 with backhoe, could be used on the construction site", reported the Oettinger group. The requirements within the city have been very high, because Baden-Baden is a spa city. The access and the transport were also complicated by the position of the buildings. Moreover, there have been limitations because of the carrying capacity of the bridge. Though the employees could cope with these difficulties very well, according to the information of Oettinger, thanks to a meticulously preliminary planning and a professional execution. "Therefore the team of Oettinger group could complete another of by now more than 2000 projects successfully", said the company.
Information
Oettinger GmbH
Ottostr. 12
76316, Malsch
Phone: +49 (7246) 944990-0
www.oettinger-bau.de
Photo: Oettinger