Only "bread and butter"?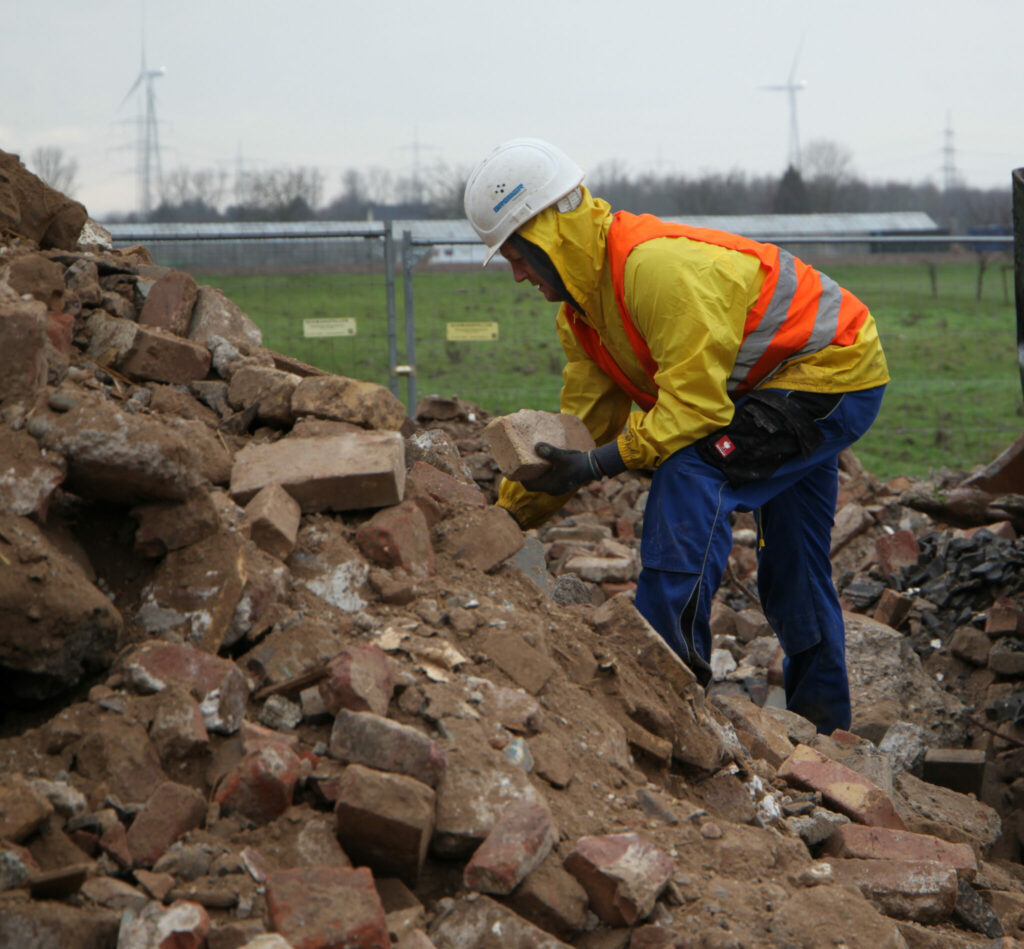 Small project – high quality
As the demolition of a former farm by DA member company Abbruch Schneider GmbH & Co. KG shows, even smaller demolitions offer many challenges that the companies have to face in their daily work and solve to the satisfaction of planners and architects. In the future, we want to present such "everyday demolitions" even more frequently.
With large-scale demolitions, e.g. of buildings that have been a prominent point in a city skyline for decades, or with spectacular blastings, you can also make it into the daily newspapers or even on TV. In addition to such "highlights", however, DA member companies also deliver the highest quality on a small scale. In our construction site reports, we want to present that are otherwise under the radar, but still represent qualified demolition.
The DA member company Abbruch Schneider GmbH & Co. KG from Cologne will be the first one.
Dismantling of old farm
For about a hundred years, the farm in Wesseling in the Rhineland offered a home for people and animals. Clearly visibly aging, however, it now had to make room for a modern single-family home. Managing Director and Project Manager Benjamin Schneider does not see a major challenge in the dismantling of the 230 square metre and 12 metre high building: "Here at the company, we are like a big family, all of whom could wake up at night if necessary. But this demolition did not give us sleepless nights. "
Environmental protection, pollutant remediation and reuse
Nevertheless, this project also exemplifies part of the wide range of tasks that demolition contractors have to face. Thus, after the mandatory polluting assessment, environmental protection was satisfied with a self-check to determine whether there are nesting birds in the building. Due to the eternity covering of the covered courtyard areas, even in this old building a polluting remediation was required, which was carried out by four qualified employees by hand. In the end, some of the installed firebricks were also sorted out for reuse.
Business as usual? The architect is convinced by the work
Since the object was located directly on a local exit road, water mist had to be used during mechanical demolition by means of a Hitachi KMC 400. In other words, a normal procedure. A demolition that machine operator Kevin Schüller also describes as "business as usual". However, Dieter Noel from the supervising architects Bittner Noel GmbH from Wesseling sees it somewhat less dryly: "I am highly satisfied. That went like clockwork here. All requirements were met in a very professional and flawless manner. This applies in particular to the serious, proper disposal of waste and pollutants. There are sometimes clear problems here," he says, praising the work of the member company of the Deutscher Abbruchverband e.V..
Information
Abbruch Schneider GmbH & Co. KG
Lichtstrasse 15
50825 Köln
Tel.: +49 152 21636424
abbruchschneider@gmail.com
www.abbruchschneider.com