Deutscher Abbruchverband – DA bestows DA-Innovation Award for the second time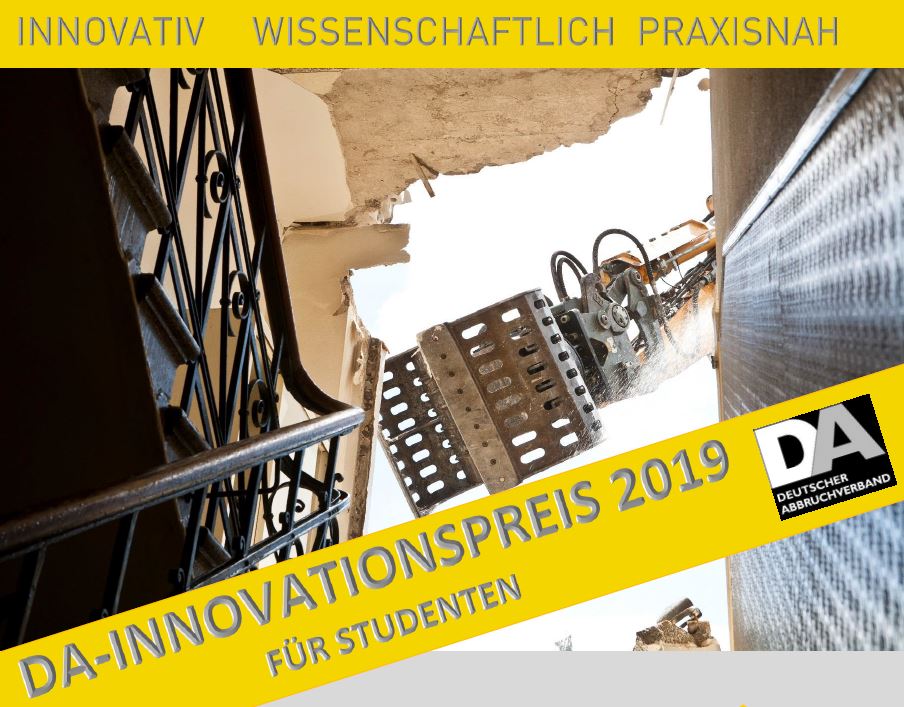 Once again  DA is awarding the best thesis that provides new industry-relevant findings
Following the successful premiere at this year`s Demolition Conference in Berlin, the DA is once again awarding the best thesis that provides new industry-relevant findings at the Demolition Conference 2019 in Berlin with the DA-Innovation Award 2019.
The Innovation Award is bestowed to students whose study subjects are closely related to the demolition industry and whose theses have been submitted and revised within the last two years. Theses (bachelor`s, master's, diploma`s, and doctoral theses) in the fields of geology, civil engineering and other industry-related sciences may be submitted to the DA in writing. All works must be written independently and should provide new sector-relevant findings. The content must relate to the topics of demolition, building material recycling and/or pollutant remediation.
Appropriate theses can be submitted to the DA from now on until the 3rd of December. A top-class jury made up of representatives of the DA association with practical experience will examine the submitted theses for their prize-worthiness. (Please note that the theses can only be submitted in and revised in German).
The winner of the DA-Innovation Award will receive a price money of 2,000 € and will be awarded at the 25th annual Demolition Conference on February 25 in Berlin – Europe`s largest conference for the demolition industry.
The winner of this year's first DA-Innovation Award 2018 was Mr. Dubrau with his bachelor thesis in environmental engineering entitled "Development of a full brick using RCM-sand recycled from broken masonry" that he handed in in December 2017 at the Brandenburg Technical University in Cottbus.