25th Demolition Conference – 15th February 2019 in Berlin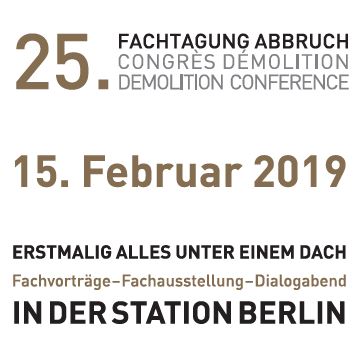 Europe's leading industry meeting at a new location – STATION BERLIN
Wolfgang Bosbach, CDU politician, gives the keynote speech – 20 other high-level speakers offer information on current specialized topics in the field of demolition – Parallel industry exhibition is hosted with a wide range of products – For the first time all under one roof
On February 15, 2019 the German Demolition Association e. V. (DA) hosts the 25th Demolition Conference at a new location – STATION BERLIN, Luckenwalder Straße in Berlin. As a former mail railway station, STATION BERLIN is an industrial monument which is a perfect match for the demolition industry.
At this year's event more than 900 participants from 15 countries and 115 exhibitors came to Europe's largest industry event, so the objectives for 2019 are ambitious.
Wolfgang Bosbach, CDU politician, will open the Demolition Conference with his keynote speech on "What counts in times of these". The following programme features 20 high-level speakers, who will give presentations on current and attractive topics in the field of demolition. There will be many best practice reports on interesting and challenging construction sites, on handling of recycling building material and its legal requirements.
This year participants will be informed about the "Open Hertie surgery in Cologne – interfaces and solutions for urban demolition", as well as on "Recycling building materials in earthworks and road surface construction – is appropriate usage possible?". Further interesting lectures such as "Demolition work during ongoing train operation – Dismantling of the DB high-rise building at Essen's main railway station" or "Taking down the Nipigon Bridge" (expertise from Canada) contribute to a wide but nonetheless well-proven range of topics, just like several construction site reports, e.g. best practices from the Professional Committee Blasting Technology of the German Demolition Association etc.
Again simultaneous translations of the speeches will be offered in English and French to meet the expectations of international visitors.
By early November more than 60 exhibitors with more than 550 sqm exhibition space have already been registered for the exhibition with a wide range of products. The weekly updated list of exhibitors can be viewed on the event website.
But not only the event location is new. For the first time the Dialogue Evening will be in the same place as the conference, therefore all agenda items will be carried out under the roof of STATION BERLIN. So it is possible to keep the exhibition parallel open to the Dialogue Evening. This clearly improves the exchange of mutual information and dialogue for both sides – visitors and exhibitors.
Highly pleasing for the German Demolition Association is the number of cooperating sponsors, who have been attracted – this also shows how well the conference is established. Already now the DA would like to cordially thank its supporters for their commitment!
The 25th anniversary of the German Demolition Conference coincides with the relaunch of the event website www.demolition-conference.com. The agenda of the Demolition Conference is available for you to download on the website.
There you will also find all event information and details and you can carry out your online-registration for your participation at the 25th Demolition Conference.
The German Demolition Association is looking forward to welcoming you!
Press Images: www.kosmos-online.de (Pictures of the 2018 event within the event website)