Helping hands in wind and weather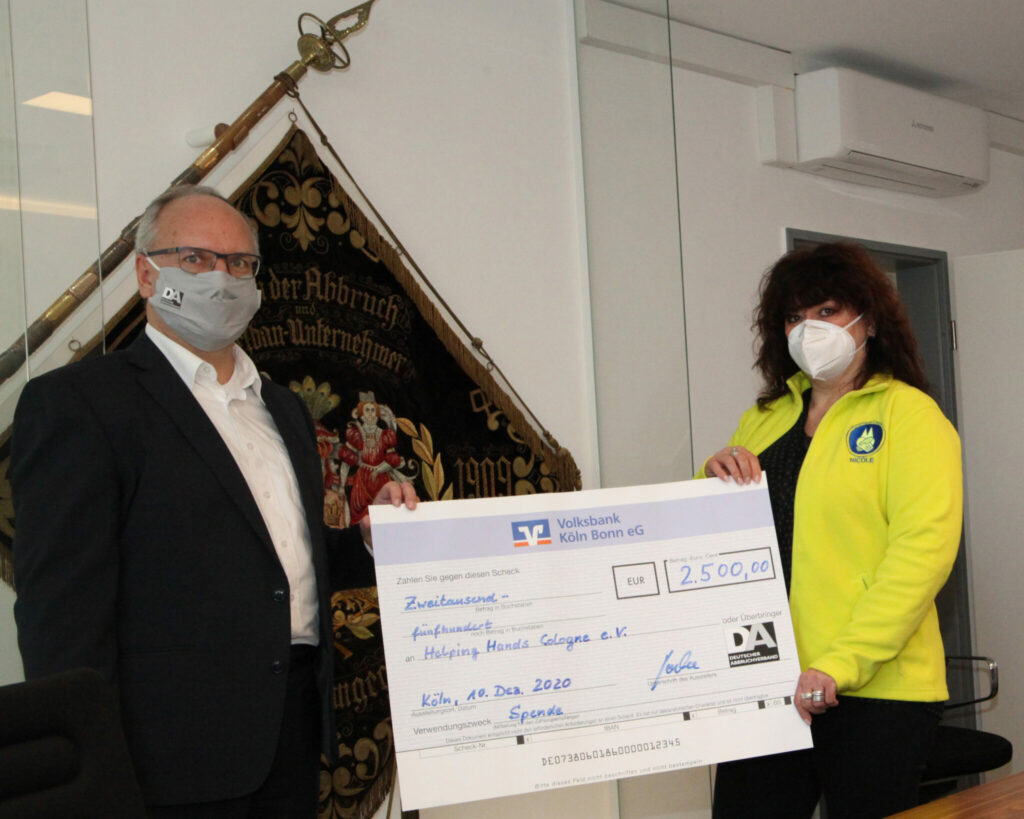 Deutscher Abbruchverband (German Demolition Association) supports a private organization for homeless assistance in Cologne.
Helping Hands Cologne not only provides homeless people with food, drinks, clothing or hygiene items, but also with an open ear.
With a donation of 2,500 euros, the Deutscher Abbruchverband e.V. (DA) supports the work of Helping Hands Cologne e.V., a charity organization for the homeless. For the Cologne-based organization it is a particular concern, especially in times of pandemic, as the DA Managing Director Andreas Pocha emphasizes: "There is a lot of discussion and reporting on the business impact of the Corona virus in one or the other industry sector. However, we are talking about people who are massively affected by the pandemic and in some cases literally struggling to survive. We hope to be able to make a small contribution on our doorstep to alleviate this hardship a little bit." The purely voluntary members of Helping Hands will use the funds to provide the homeless in Cologne with food, drinks, clothing or hygiene items. "Nobody here is paid or receives an expense allowance. Donations are entirely used for the procurement of necessary materials," says Nicole Freyaldenhoven, who is responsible for the finances of the organization Helping Hands Cologne.
In wind and weather
Whether it's raining, freezing or sunny, since 2014 the Helping Hands Cologne volunteers have set out every Friday evening with their handcarts to provide homeless and needy people with the bare essentials at various points of contact in Cologne's downtown. A total of 100 to 120 portions of food are distributed every week. Starting at the main train station near to the Cologne Cathedral, it is not only about a warm meal but also about conversation or an open ear, as Nicole Freyaldenhoven knows to report: "The personal conversation is very important. With us, people don't have to justify themselves. The fact that we are not 'from the authorities' means that we can offer a much lower-threshold service, so we can also act as a mouthpiece between homeless people and the authorities."
Corona-related restrictions
Like all other areas of society, the commitment of Cologne's "helping hands" is of course also affected by the Corona-related restrictions. For example, the number of helpers at the Friday rounds had to be constantly adjusted to the changing contact restrictions. " That's a logistical challenge in itself. We actually have a large network. However, at the moment we cannot take all of them into account when it comes to active help on the ground," says Freyaldenhoven.
Not only important before Christmas
The annual New Year's reception for the homeless at Studio Dumont will probably also fall victim to the current pandemic situation. But this could also be done later, if necessary, because support for the poorest people in the city is important not only around the Christmas season, which is a time for donations. This is an assessment that the DA can fully endorse.
Further information about the Helping Hands Cologne e.V. and donations are available on the Internet: www.hhc-obdachlosenhilfe.koeln.
In addition to financial resources, donations in kind are also very welcome.